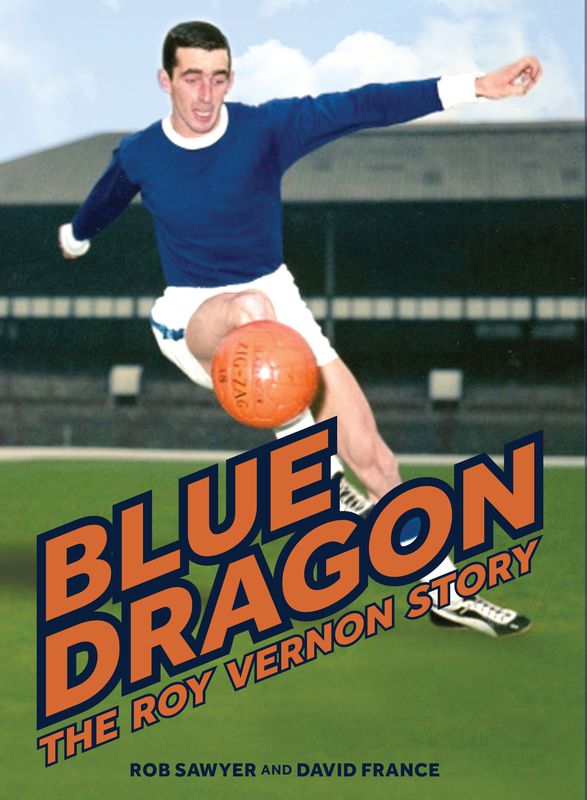 Blue Dragon: The Roy Vernon Story
Rob Sawyer & David France
£18.99
In stock
Your purchase supports independent publishing
---
An excellent insight into a complex character
Roy Vernon was one of the most deadly strikers in English football's golden era. His goals helped take Wales to the World Cup finals, Blackburn Rovers to promotion to the First Division and Everton to league championship glory. Later in his career, at Stoke City, he was part of Tony Waddington's resurgent 1960s team.
But Vernon was more than just a great player. He was a maverick, a smoker and a joker, who defied his managers off the pitch and delighted them on it. Now, 50 years after his retirement from a game he gave so much to, award-nominated author Rob Sawyer and acclaimed Everton historian David France have told his story in full for the first time.
Drawing upon Vernon's own unpublished memoir, scores of interviews with friends, family, teammates and opponents, the authors produce a vivid portrait of a man who wowed millions of fans and terrorised hundreds of opponents.
Initially brought to life as a crowdfunding project and published as a limited edition of 1000 books, Blue Dragon is the definitive study of one of British Football's forgotten heroes.
About the Authors
Rob Sawyer is a fourth generation Evertonian. His great-grandfather, William Sawyer, was a director and secretary of the club. Rob is a popular columnist for ToffeeWeb — the independent Everton website — and an active member of the EFC Heritage Society. He has authored two other books: Harry Catterick: The Untold Story of a Football Great, and The Prince of Centre-Halves: The Life of Tommy TG Jones, which was released in 2017. The latter was shortlisted in the Sports Book Awards 2018 in the biography category.
Throughout his childhood on Merseyside and the past 42 years in North America, David France has been besotted with Everton Football Club. To date, he has travelled over 2,000,000 miles to support his beloved club and introduce trailblazing initiatives. In addition to producing a small library of 17 Everton Books, he formed the Hall of Fame, established the EFC Heritage Society, registered the Everton Former Players' Foundation and combed the globe to assemble the world's finest collection of football memorabilia, now known as The Everton Collection. Hailed as 'Doctor Everton', he was awarded an OBE for services to football in the United Kingdom and Europe.
| | |
| --- | --- |
| UPC | 9781916278400 |
| Publication Date | Aug 2019 |
| Author | Rob Sawyer & David France |
| Format | Hardback |
| Height | 210.0mm |
| ISBN-13 | 9781916278400 |
| Pages | 276 |
| Width | 145.0mm |
This is a biography about an often overlooked but supremely talented footballer, a maverick of the late 50's/early 60's. It is criminal that he is pretty much forgotten outside of the clubs he played for as he was an extra special footballer. His record speaks for itself and it is sad that there is limited footage of his exploits on the pitch as he was an artisan of the game. This wonderfully researched book brings his memory to life and gives a rare insight into the player and the man, who could often be described as 'difficult'. The authors are meticulous in their detail, gleaned from newspapers and interviews with the many protagonists in Roy's life. Being a biography, it does not suffer from the inaccuracies you often encounter with autobiographies written by players with or without ghost writers. Both France and Sawyer are true Evertonians with a stickler for detail and this is a labour of love for both of them. It is the perfect companion piece for David's biography of Alex Young, Rob's book about Harry Catterick and Gavin Bucklands book 'Can't buy us love', detailing an exciting period in Everton's history, but it also chronicles Roy's early years at Blackburn Rovers and latter years at Stoke City, as well as his international career with Wales. A marvellous book.

Reviewed by Trevor Edwards on 12 Mar 2020 | Permalink

This review has no votes.

A brilliantly written book by Rob & David just like others written by these two Everton Greats , it not only lets us know how great a team we had back then, it also gives an insight into how the players mixed after football. For those of us lucky enough to have watched that fantastic team it brings back so many wonderful memories. Mine being my very first away game as a Blue was as an 8 year old away at Stoke to watch Roy playing against his beloved Blues Thanks Rob & David for bringing some of our clubs history back to life

Reviewed by Anonymous Reviewer on 22 Jan 2020 | Permalink

This review has no votes.

It was a great read and justice to one of the great football mavericks who seems to most to have been lost in football history . There was people who were great footballers and charismatic who played for clubs other than the current usual suspects.

Reviewed by Paul Russel on 31 Dec 2019 | Permalink

This review has no votes.
See all reviews