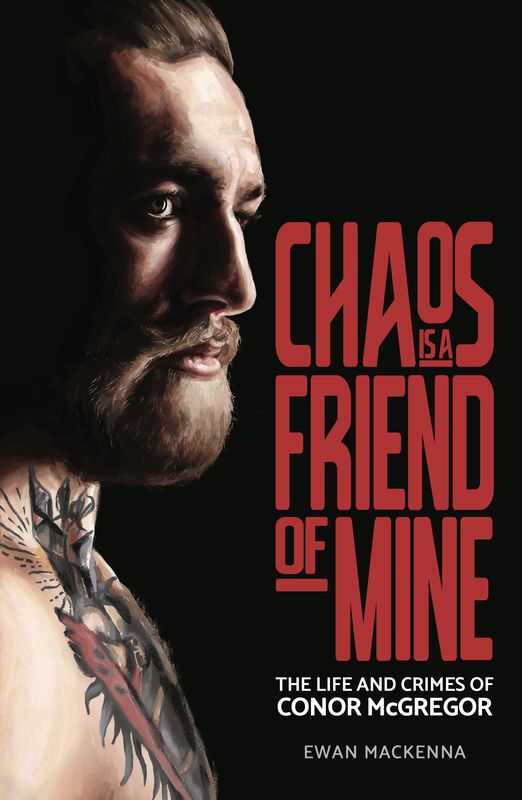 Chaos is a Friend of Mine: The Life and Crimes of Conor McGregor
Ewan MacKenna
£14.99
In stock
Your purchase supports independent publishing
---
I loved the ambition of the book and the concept of the book.
It's a superb piece of writing
'… People say to me be careful of the money, don't blow it. If the money becomes a problem, I'll get rid of it. I've been planning to get to this stage for a long, long time and I won't let anything stop me. Honestly.'
The year is 2013, and Ewan MacKenna is sitting in McDonald's with Conor McGregor as he enjoys his weekly coffee, a treat in the eyes of a dedicated fighter. The Crumlin born mixed martial arts fighter has not yet cashed his €60,000 prize money after his maiden UFC victory over Marcus Brimage, a first-round stoppage, but he knows the importance of it – only recently has he found himself in the social welfare queue.
Five years on and McGregor is late for his press conference with Khabib Nurmagomedov ahead of their showdown at UFC 229. By the time he arrives his opponent has gone, but it doesn't stop him from launching into a diatribe against him before reverting to a sales pitch for his own whiskey, 'Proper No. 12.'
Somewhere along the line, the fighter became a stranger to his art, increasingly drawn to the circus that surrounds him. But what is McGregor? A wonderful rags-to-riches tale? Dedicated athlete? Cultural phenomenon? Troubled soul? Out-of-control kid? Confused young man? Narcissist? Arrogant thug? Sporting icon?
McGregor is any and all but, crucially, more than most sporting stars, he is also a mirror of society.
In Chaos is a Friend of Mine, MacKenna takes in both Las Vegas in 2018 and Dublin in 2019 in order to examine McGregor's journey, from his upbringing in the Irish capital, to his early days as a wide-eyed, prodigiously talented martial arts obsessive, to his recent antics outside the ring which have seem him grow bigger than the sport itself but spiral out of control.
About the Author
Born in Ireland, Ewan MacKenna is an award-winning journalist and author. He first interviewed Conor McGregor in 2013 after his maiden UFC victory, and has followed his career closely ever since, including covering his fight with Khabib Nuragomedov at UFC 229 in Las Vegas in 2018. A former Irish Sportswriter of the Year, he is a columnist with the Irish Independent and has also contributed internationally to the New York Times, Bleacher Report, ESPN and the Independent. He splits his time between Portugal, Brazil and Ireland.
| | |
| --- | --- |
| UPC | 9781909245907 |
| Publication Date | Nov 2019 |
| Author | Ewan MacKenna |
| Depth | 30.0mm |
| Format | Hardback |
| Height | 216.0mm |
| ISBN-13 | 9781909245907 |
| Pages | 272 |
| Width | 138.0mm |