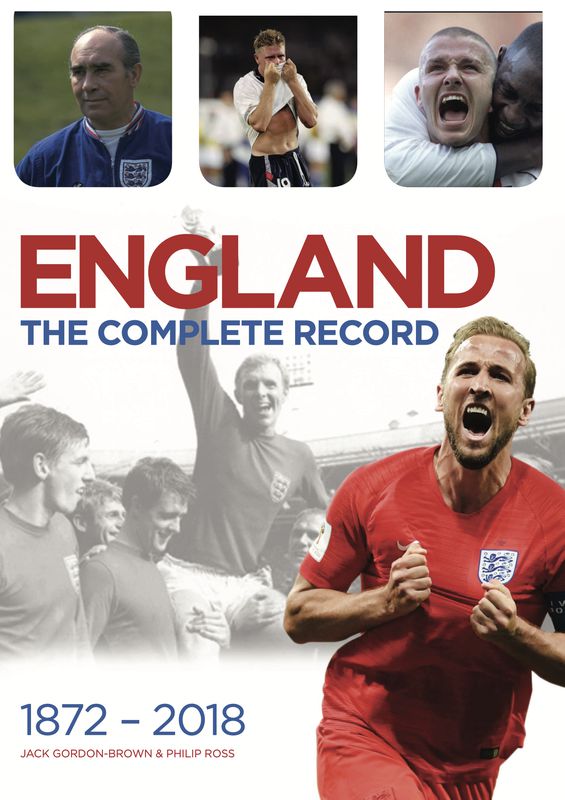 England: The Complete Record
Philip Ross & Jack Gordon Brown
£25.00
In stock
Your purchase supports independent publishing
---
This book takes an in-depth and comprehensive look at the last 145 years of the national team, with every ounce of information and statistical analysis you could hope for.
Authors Philip Ross and Jack Gordon Brown have collaborated to produce the most comprehensive, up-to-date history of English international football.
Fully updated to include the 2018 World Cup in Russia, England: The Complete Record is the definitive account of one of the world's most recognisable and historic national teams. Participants in the first official international association football match ever played – a 0-0 draw with Scotland at Hamilton Crescent on 30 November 1872 – England have remained a domineering and pioneering force in the global game throughout their existence.
Over 145 years since that groundbreaking meeting with Scotland, Jack Gordon Brown and Philip Ross have collaborated to detail the highs and the lows of the Three Lions. From the ignominy of defeat against Hungary at Wembley in 1953, to World Cup glory at the same venue thirteen years later, and penalty heartbreak throughout the ages – every meaningful moment is recorded in these pages.
This complete record includes statistical details of every England match, friendly or competitive, year upon year – the result, the opponents, the scorers, the venue, the attendance – complete with a weaving narrative throughout. Every England tournament appearance is documented, including the now-defunct British Home Championships, alongside the more recognisable European Championships and World Cup.
Replete with in-depth player and manager databases and profiles, this book is an indispensable addition to the libraries of every England fan and to followers of the beautiful game everywhere.
About the Authors
Jack Gordon Brown was born in London. After studying journalism at the University of Salford, he became an editor at deCoubertin books in 2016. He collaborated with Philip Ross and James Corbett on Faith of Our Families: Everton, an Oral History.
Philip Ross was born in Liverpool in 1967. He is a lifelong Everton and England supporter, with a background of research and database production. He launched the first Everton Former Players' foundation website and worked on the book Faith of Our Families: Everton, an Oral History.
| | |
| --- | --- |
| UPC | 9781909245686 |
| Author | Philip Ross & Jack Gordon Brown |
| Depth | 40.0mm |
| Format | Hardback |
| Height | 246.0mm |
| ISBN-13 | 9781909245686 |
| Pages | 366 |
| Width | 175.0mm |
| Publication Date | Sep 2018 |
Recommended Products
The book is full of countless nuggets.