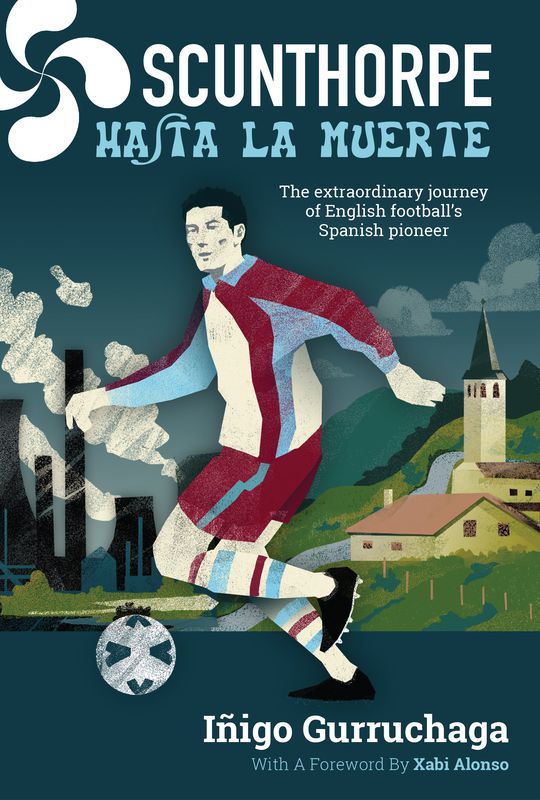 Scunthorpe Hasta La Muerte: The Extraordinary Journey of English Football's Spanish Pioneer
Inigo Gurruchaga
£14.99
In stock
Your purchase supports independent publishing
---
A modest great book.
There's a wonderful book called Scunthorpe Hasta La Muerte (Scunthorpe 'till I die), which chronicles the human side of football to perfection. Few books have done it better
The wonderful story of Scunthorpe hero Alex Calvo Garcia. Recommended
In September 1996, Alex Calvo García, a largely unknown Basque footballer arrived in England. Recently released by Eibar in the lower reaches of the Spanish league, the journey represented the 24 year-old's final opportunity to make it as a professional footballer. Without a word of English and at a time when foreign players were rare on British soil – and unheard of in the town of Scunthorpe – the odds seemed stacked against him.
What followed was an unlikely eight-year long love affair, in which Calvo García took Scunthorpe United to his heart and embraced the town as its people did him. A Spanish pioneer to the English game, his was a career spent not in the great arenas of football, like Old Trafford and Anfield, but in its less salubrious outposts While he may not have achieved the fame and wealth of some of his compatriots, the happiness Calvo García took from his time at Glanford Park he says made him far richer.
In Scunthorpe Hasta La Muerte (Scunthorpe 'til I die), the acclaimed Basque journalist Iñigo Gurrachaga traces his Calvo García's career from the Basque country to Wembley, where he scored the goal that took Scunthorpe to the old third division in the play-offs, and beyond. Its narrative embraces the history of football, of Scunthorpe, of the religions, social ideas and stories that shape the followers of a club in North Lincolnshire with a funny name.
Part biography, part social history, part meditation on what it is to be an outsider ultimately embraced by the introverted world of football, Scunthorpe Hasta La Muerte is a rare thing: a beautifully written account of the underbelly of English football and a masterpiece of sportswriting.
About the Author
Iñigo Gurruchaga is the London correspondent for the Basque newspaper, El Correo.
| | |
| --- | --- |
| UPC | 9781909245372 |
| Publication Date | Sep 2016 |
| Author | Inigo Gurruchaga |
| Depth | 30.0mm |
| Format | Hardback |
| Height | 138.0mm |
| ISBN-13 | 9781909245372 |
| Pages | 192 |
| Width | 216.0mm |
Bought for my father's Christmas gift. Book came signed so that's going to make his year!. Only read a few pages as I want to keep the book pristine. Very easy to order from and delivery was painless

Reviewed by GL on 5 Dec 2016 | Permalink

This review has no votes.

This is a great book, and I highly recommend it. Full published review available here; http://www.iron-bru.co.uk/review-scunthorpe-hasta-la-muerte/

Reviewed by MR M P BELL on 15 Aug 2016 | Permalink

This review has no votes.