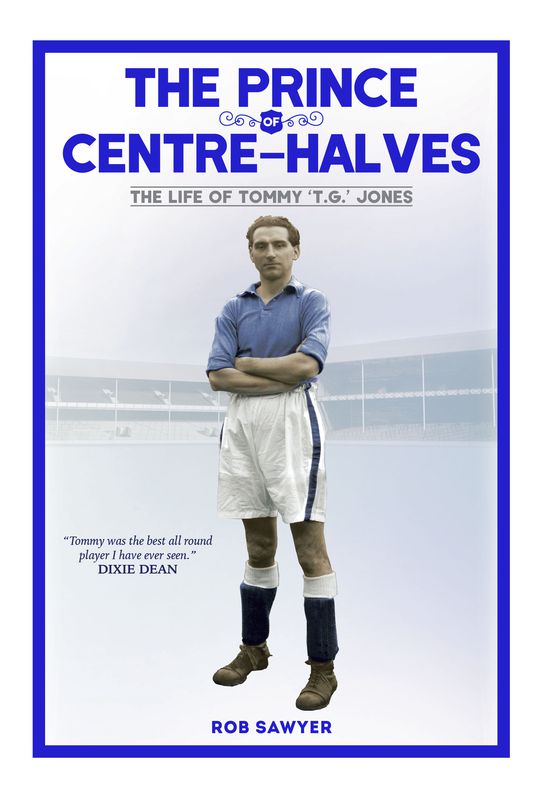 The Prince of Centre-Halves: The Life of Tommy TG Jones
Rob Sawyer
£15.99
In stock
Your purchase supports independent publishing
---
Shortlisted in the Sports Book Awards 2018 Best Biography of the Year
A book about a hero that was forgotten by many, but a book that should be read by all Everton, Phwllheli and Bangor fans, and across the north and all of Wales.
His brilliance cannot be overstated nor can it be properly evaluated, but Sawyer's contribution at least enables balanced speculation
We must be grateful that Rob Sawyer, who also wrote an excellent biography of former Everton boss Harry Catterick, has turned up the spotlight on this 'forgotten' captain of Everton and Wales once again in his centenary year.
Rob Sawyer deserves full credit for writing such an insightful biography of one of Wales' most talented footballers, and the book is a valuable addition to the expanding library of Welsh football history.
In 1948 AS Roma launched an audacious bid to make Everton's elegant Welsh international centre half T. G. Jones one of the first foreigners to play in Serie A. Jones, who was dubbed The Prince of Centre-Halves by his adoring fans, bestrode the First Division in an age of uncompromising defensive 'stoppers'. A forerunner of football immortals like Bobby Moore and Franz Beckenbauer, he was, according to Dixie Dean, 'the best all-round player' he had ever seen. The Eternal City seemed a fitting stage for this most stylish of players.
And yet the move faltered at the twelfth hour and Jones returned to Everton, where, unappreciated by the club's management, his playing career petered out to a disappointing conclusion. A decade later his countryman John Charles found adulation in Italy as Il Gigante Buono and Jones was forever left pondering what might have been.
Jones, however, had left his own indelible mark on British football in the 1930s and 1940s. With a blend of defensive brilliance, skill and playmaking ability, his regal style won him admirers across the land. To his fans he truly was 'The Uncrowned Prince of Wales.'
In this, Jones's centenary year, author Rob Sawyer, uncovers the true story of this enigmatic football legend. Utilising a mixture of archive material and interviews with those who knew Jones and saw him play, Sawyer paints a compelling picture of a brilliant footballer and outspoken and complicated man. Rebel, pioneer and football genius this is the definitive story of one of the game's forgotten heroes.
About the Author
Rob Sawyer was born in 1970 with Everton on the cusp of clinching the league title for a second time under Harry Catterick's guiding hand. Becoming anything other than the 4th generation of Evertonian in the family was never an option.
A columnist for the Toffeeweb independent Everton website, Rob is also a member of the EFC Heritage Society.
| | |
| --- | --- |
| UPC | 9781909245549 |
| Publication Date | May 2017 |
| Author | Rob Sawyer |
| Format | Hardback |
| Height | 216.0mm |
| ISBN-13 | 9781909245549 |
| Pages | 216 |
| Width | 138.0mm |
The book is a brilliant insight into T.G and Rob Sawyer captured his brilliance without in anyway being boring. I am slightly biased in that I was a modest contributor and gained two paragraphs BARRY G JONES

Reviewed by BARRY GARTH JONES on 19 Dec 2019 | Permalink

This review has no votes.

Although I have been a Blue for more than thirty years, and like to think I know my history, I would be lying if I said I knew much about TG Jones before reading this excellent biography by Rob Sawyer. Detailing the considerable highs and lows of the Welshman's career, including the night he guided Bangor to an unlikely victory over Napoli in the European Cup Winners' Cup, some twelve years after his acrimonious exit from Goodison Park, Sawyer's book paints the picture of a stubborn, complex character, a leader of men, who was revered by many of the game's top names of that time, including Joe Mercer, Tommy Lawton and Dixie Dean. Indeed, Dean went on record to say that TG Jones was the best all-round player he'd ever set eyes on. Nonetheless, despite such ringing endorsements, Jones also comes across as an extremely arrogant, egotistical and, somewhat paradoxically, insecure individual, who often felt the need to blow his own trumpet and publicly criticise his contemporaries. For showing us both sides of Jones' character, Sawyer deserves great credit. Perhaps the greatest lines in The Prince of Centre-Halves, however, do not come from the author or indeed his subject, but from the football journalists of the first half of the twentieth century. One such reporter was 'Pilot', who wrote this about Jones in 1939: "A number of people said to me after the match, 'Busby was the best player on the field.' I disagree and hand the palm to Tom Jones. Everton's display was an epic. They had pace, skill, a cheeky confidence, a flair for doing the unexpected in seeking the open space, finishing accuracy and a perfect defence." Bravo TG(R) Jones, Rob Sawyer and all those involved in putting together this splendid book and the spiffing cigarette cards that accompany it!

Reviewed by Paul Owens on 8 Aug 2017 | Permalink

This review has no votes.

One of the best biographies I have read. It has been thoroughly researched and is very readable. It will appeal to every Everton fan as well as to a wider football-loving public, especially to those in North Wales where TG finished his playing days. The author should be congratulated on a plendid book.

Reviewed by John Cowell on 7 Aug 2017 | Permalink

This review has no votes.
See all reviews