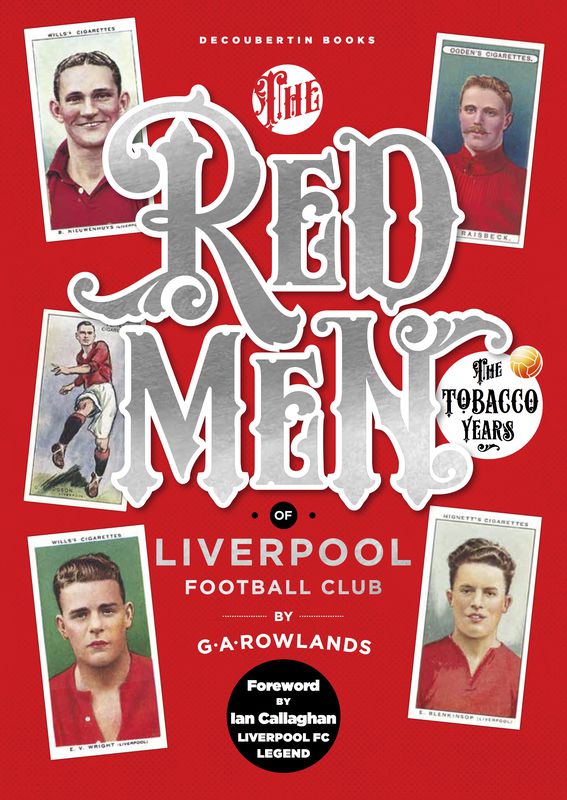 The Redmen of Liverpool FC: The Tobacco Years
George Rowlands
£14.99
In stock
Your purchase supports independent publishing
---
Shortlisted for the Sports Book Awards 2018 Best Illustrated Book
A superb book that will set the standard for anyone wishing to compile similar works on their own club's cigarette cards.
A colourful and stylish collection of every single Liverpool footballer ever to feature on a cigarette card
Some people may dismiss Rowlands' new book as something only footballing anoraks and obsessives could appreciate, but those who read it carefully enough will realise that not only does it give a unique insight into Liverpool's history, it also provides a glimpse of a bygone era.
In the last years of the nineteenth century an American tobacco company, Allen and Ginter, began inserting plain cards called 'stiffeners' into packets of cigarettes to protect their products from being crushed. What seemed at the time like an inconsequential product development was swiftly exploited for commercial purposes: to advertise other products and then illustrate the cards with popular personalities. These collectables swiftly became a phenomenon and crossed to the other side of the Atlantic. These cards were decorated by many different subjects: politicians, actors, writers, poets and sporting personalities, most significantly footballers. A craze that lasted for more than half a century was born.
In an era before the widespread use of photography in print media and when the game was seldom captured by motion film, cigarette cards were often the most enduring portrayal of football's stars in the early twentieth century. Small boys would collect these cards from family and friends. Teams would be formed and, in a forerunner of today's fantasy football games, the cards would be swapped and traded to see who could assemble the best team. Today they provide a compelling insight into a bygone era.
Now, in The Redmen of Liverpool FC, Rowlands has shared his passion. Featuring every single Liverpool player featured in this medium, along with biographical details and contextual notes, Rowlands tells the story of the cigarette card craze. Presented in full colour, Redmen is a richly illustrated and deeply evocative window into one of football's bygone eras and an essential reference for every Liverpool fan.
About the Author
George Rowlands was born in 1938 in Bootle. He spent his early years playing on World War Two bomb sites and later, sneaking into Anfield after halftime. He worked as a mechanical design draughtsman in California, later returning to Merseyside where he continued in that profession before setting up his own engineering supply business, based on Liverpool's Dock Road, which he ran for many years. After retiring in 2001, he was able to concentrate on and expand his interest in cigarette cards, specialising in LFC players. The Redmen of Liverpool FC is his first book.
| | |
| --- | --- |
| UPC | 9781909245532 |
| Publication Date | May 2017 |
| Author | George Rowlands |
| Format | Paperback |
| ISBN-13 | 9781909245532 |
A greatly detailed and informative read, packed with player information. Excellent quality images and easy to read layout. Best book purchase this year; highly recommend!

Reviewed by L Jones on 21 Jul 2017 | Permalink

This review has no votes.