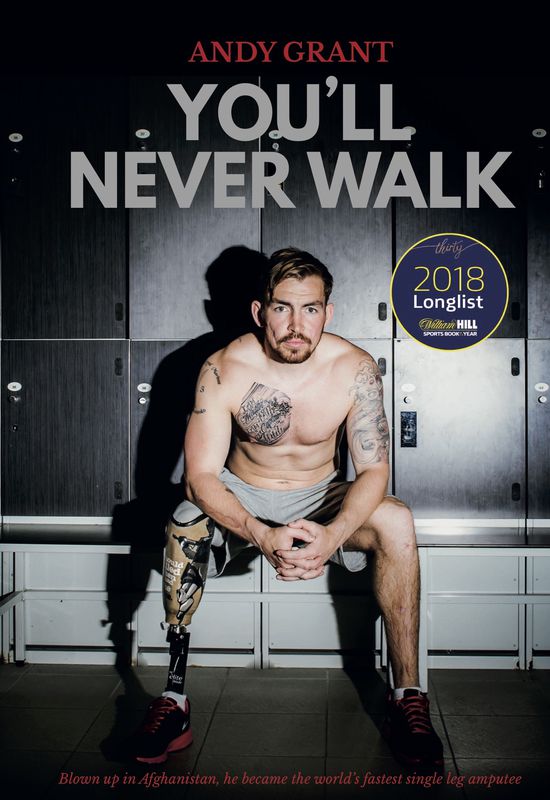 You'll Never Walk
Andy Grant
£8.99
In stock
Your purchase supports independent publishing
---
Longlisted for the William Hill Sports Book of the Year Award 2018
Inspirational
A remarkable man
You won't be able to read this book and not be lifted
His life story reads like a rocky film
Praise for Andy's ITV documentary, Paragon:
A profound reflection on the challenges of life after the Afghanistan war
An inspiring tale of rehabilitation
When Andy Grant's eyes blinked open from a 10-day coma in February 2009 he was alone in a hospital bed in Birmingham. He had a broken sternum, a broken leg, a broken elbow and shrapnel lodged in both forearms. He had a severed femoral artery, nerve damage to his hands and feet as well as deep gaping wounds in both of his cheeks. He had been blown up during a routine foot patrol in Afghanistan. Within days of coming to his senses, a doctor told Andy that because of the blast he would no longer be able to have children.
You'll Never Walk is his story. 

The tale of a Scouser who had to cope with losing his mum at the tender age of 12. The story of how a dream career in the Royal Marines descended into nightmare at the hands of the Taliban. The painstaking account of how he grew back six centimetres of shattered bone in his leg and learned to walk again. However, Andy wanted to run and push himself to the very edge of his limits and so he made a colossal decision. 

Against doctor's advice and pleas from his father, he chose to have his leg amputated. The operation was a success, although there was a minor twist. Where once Andy's treasured Liverpool FC tattoo had carried the message 'You'll Never Walk Alone', surgery to create a stump removed a key word from the slogan. The scars of his amputation had been decorated with an ominous new motto, which read 'You'll Never Walk...' 

Andy would walk again – he would do much more than that. 

Armed with a running blade he learned to run and play football, scaled mountains in South America and Italy and claimed two gold medals at Prince Harry's Invictus Games. Through public speaking he brought hope to people right across the country. In 2016, he set his sights on a 10k below-the-knee-amputee world-record and completed the run in an unprecedented 37 minutes 17 seconds. And, most preciously of all, after every obstacle placed in his path, Andy became a father to a little girl.
About the Authors

Born in Liverpool, Andy Grant joined the Royal Marines aged 17. Three years later in February 2009, he was blown up during a foot patrol in Sangin, Helmand Province. He is an ambassador for charities such as Help for Heroes and School of Hard Knocks. In September 2016, he was honoured with the Outstanding Achievement prize at the Pride of Liverpool Awards. 

Phil Reade is a journalist and documentary producer at LFCTV, Liverpool Football Club's TV channel. 

| | |
| --- | --- |
| UPC | 9781909245815 |
| Publication Date | Jan 2019 |
| Author | Andy Grant |
| Depth | 20.0mm |
| Format | Paperback |
| Height | 196.0mm |
| ISBN-13 | 9781909245815 |
| Pages | 308 |
| Width | 128.0mm |
Recommended Products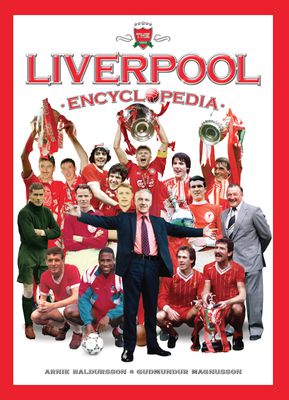 Arnie Baldursson & Gudmundur Magnusson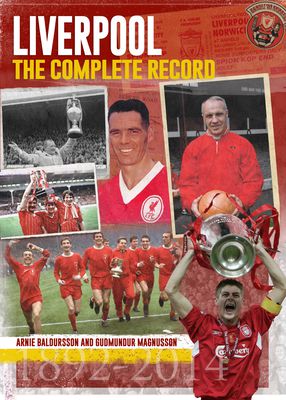 Arnie Baldursson & Gudmundur Magnusson