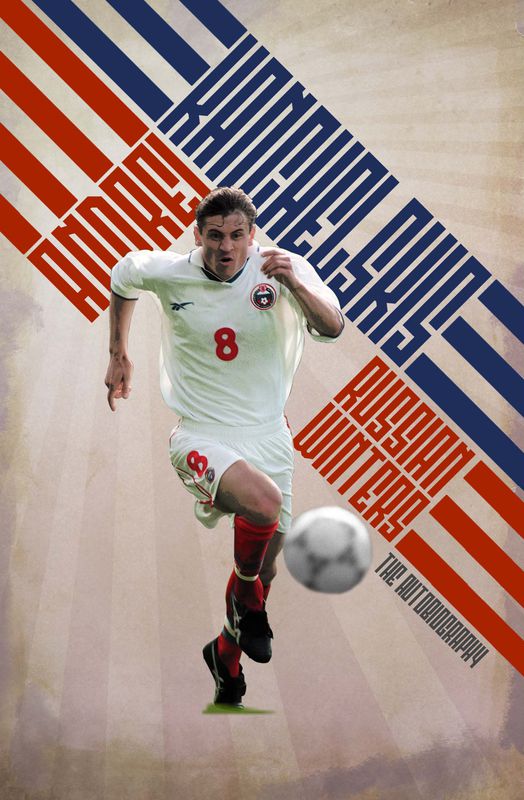 Russian Winters: The Story of Andrei Kanchelskis
Andrei Kanchelskis
£20.00 £17.99
In stock
Your purchase supports independent publishing
---
A fascinating career tale where he pulls no punches about fellow professionals
His attention to detail and pursuit of self-betterment is clear throughout.
It's honest, genuinely interesting and gives a novel insight
As his compelling new autobiography reveals, he was always willing to speak his mind.
Kanchelskis was one of the stars of the first great side Sir Alex Ferguson built at Old Trafford, the team of warriors, built around Peter Schmeichel, Roy Keane, Mark Hughes and Eric Cantona that won the Double in 1994.
He tells the inside story of his departure from Old Trafford the following year that was dogged by persistent accusations it was engineered by the Russian mafia. He reveals why his agent presented Ferguson with a box containing £40,000 and what it was like to be the nearest player to Cantona on the night he leapt into the crowd at Selhurst Park.
After leaving Manchester United, Kanchelskis tells what it was like to play alongside Duncan Ferguson at Everton and Gabriel Batistuta at Fiorentina and how in Florence he witnessed a real-life mafia murder. His move to Rangers ensured he would be the only man to score in a Manchester, a Merseyside and a Glasgow derby.
After a fall-out with the Rangers manager, Dick Advocaat, he returned to Russia via a spell at Manchester City and in Saudi Arabia. Kanchelskis explains what life was like as a foreigner in Saudi Arabia and how he was playing chess in the desert with a member of the Saudi royal family as a murderous Al-Qaeda attack shot up the centre of Riyadh.
With Russia due to be the centre of the football world when hosting next year's World Cup, Kanchelskis examines the sad decline of one of the game's great powers told through his time as a manager in his native land, a story of ignorance and corruption.
About the Author
Andrei Kanchelskis was born in Kirovograd, Ukraine, in 1969. In 1988 he began his playing career with Dynamo Kyiv – the most revered club in Soviet football. Following a year with Dynamo's Ukrainian rivals Shakhtar Donetsk, Sir Alex Ferguson made his move to bring Kanchelskis to Manchester United, months before the dissolution of the USSR. Kanchelskis beguiled fans at Old Trafford before he took his whirlwind wing play across the M62 to Goodison Park. A brief but memorable 18-month period at Everton was followed by spells at Fiorentina, Rangers and Manchester City, among others. He featured 36 times for Russia between 1992-1998, and currently resides in Moscow.
| | |
| --- | --- |
| UPC | 9781909245495 |
| Publication Date | Sep 2017 |
| Author | Andrei Kanchelskis |
| Format | Hardback |
| Height | 234.0mm |
| ISBN-13 | 9781909245495 |
| Pages | 248 |
| Width | 153.0mm |
WHO would have thought that former Manchester United favourite Paul Ince used to have a swig of brandly to settle himself before games? Or that Fiorentina players are barred by their club from visiting McDonald's? All is revealed in this enthralling autobiography by Andrei Kanchelskis who variously played Manchester United, Manchester City, Everton and Glasgow Rangers, plus clubs in Russia, Italy and Saudi, before taking up management. The compelling narrative, expertly co-written by Tim Rich, explores all the ups-and-downs of his globetrotting career (not just as footballer). There were many triumphs, but also great sadnesses - for instance, when he and former wife, Inna, lost their first baby. Many years later, there was more despair when she left him for a Russian pop singer whom she had met after one of his concerts. Evidently, the author has not been spoiled by fame and fortune. He says: "Money doesn't change you - it doesn't alter who you are. "It is a mask, there for you to hide behind." Russian Winters is also reviewed at www.todaysref.blogspot.co.uk

Reviewed by merganser on 11 Jan 2018 | Permalink

This review has no votes.
Recommended Products